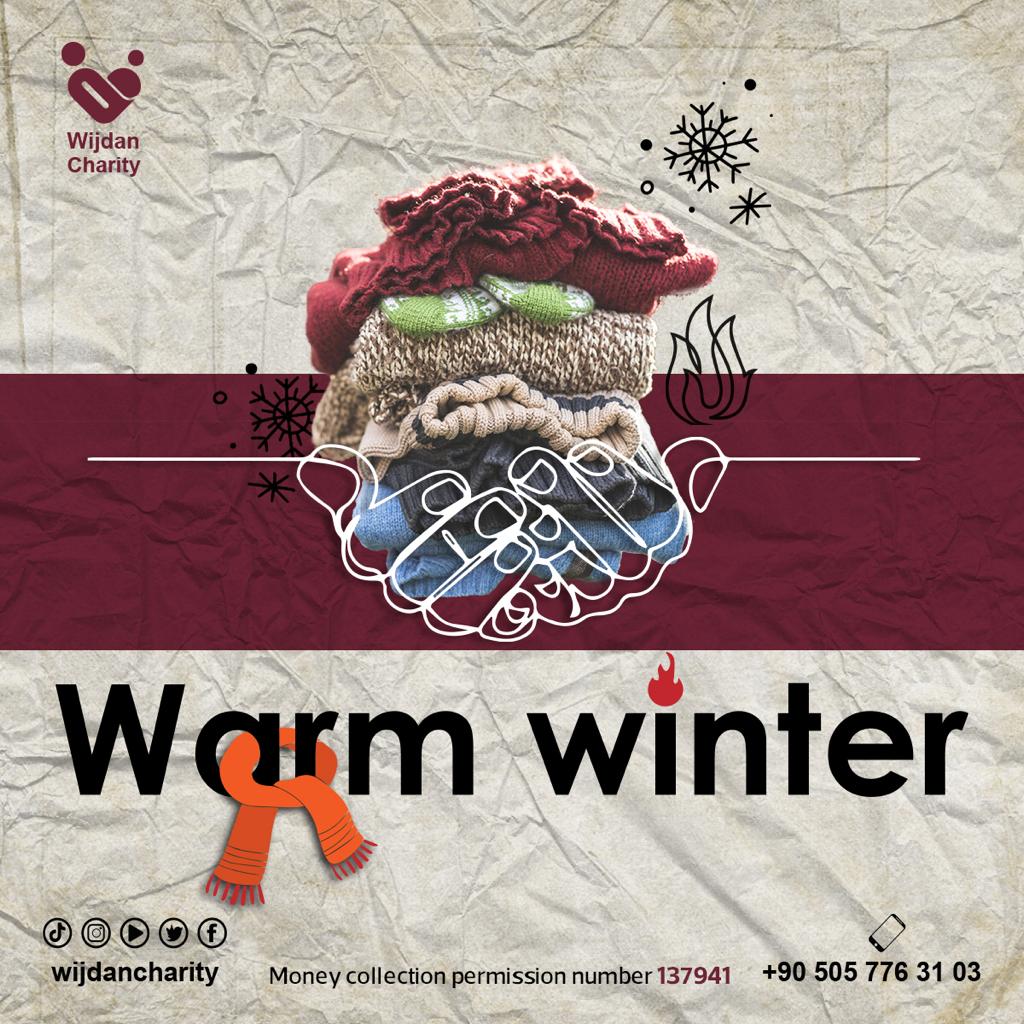 Campaign deleted by admin
Is winter warm everywhere?
When winter comes, good conditions like rain and snow start also.
The feelings of warm winter are generated while we are in our homes enjoying the warmth and pleasure
of winter as we have all winter necessities available to us, in every home and for every person.
But, with what our Arab region has witnessed in recent years of conflicts, it seems that winter is no
longer warm for everyone. Will people in these areas receive it with the same happiness as everywhere
else? or is there anyone who fears its arrival because he knows that the difficulties he will face are
greater than his endurance?
Warm winter is missing in crisis areas:
During the winter, in the places of crises that our Arab region is exposed to, humanitarian needs rise to
their highest levels, so many people miss the joy of winter, they miss this tranquility that envelops its
days and nights.
They spend the winter season with great suffering, starting from having proper clothing, the simplest
elements to protect against harsh weather conditions, and the suffering gradually reaches to the point
where they are forced to shelter in houses with bad ceilings or doors and windows, so that they do not
prevent the severity of the cold at all.
Our people in Syria, in Palestine, and in Yemen, face in addition to the cold of winter, the economic
crisis. These difficult economic conditions make them unable to face the harsh winter conditions and
their growing needs.
In the winter months, those who suffer the most are children, the weakest link in all human cases. Their
small bodies resist the cold as much as they can bear, but they are exhausted by low immunity and
disease as a result of lack of heating and lack of proper food.
Seeing them suffer and resist difficulties despite their weakness and helplessness, reminds us that there
is a duty that must be done, a duty that our humanity and our sense of the other call us to, and that we
have the right to support, aid and relieve.
What can we do to keep their winters warm?
With the coming of winter, we can secure their basic necessities that can constitute the necessary
support for them to be able to continue, and for their lives in the winter season to be less difficult and
suffering.
Therefore, we launch the Warm Winter Campaign, to provide them with the most important things they
need to make their lives less difficult. Areas of relief vary to include necessary winter supplies such as
heaters and heating fuel, as well as mattresses and blankets, and of course, as in every relief campaign,
there are clothes and food parcels.
With you and your participation in the Warm Winter Campaign, we try to be the caring hand that makes
a difference in the lives of children and their families in places of crisis, making a difference for them in
getting warmth, food, and resistance to the difficulties of winter.
This campaign comes after several similar warm winter campaigns that we implemented in several
regions during the previous years, and it had a great impact on all of our beneficiaries, as it provided
them with their basic needs that they had the means of resistance and steadfastness in front of harsh
winter days, and this effect would not have been possible without the good donors who actively
contributed to it with all that was available in their hands, so their contribution was like the umbrella
that kept our people in places of crisis from the many difficulties they faced.
Your participation this year in the current warm winter campaign, will be, as was your generous and
benevolent participation in the warm winter campaigns previously, the way to alleviate and reduce their
suffering. It will be the warmth they are waiting for, and a way to a decent life that contains the simplest
rights obligatory for every human being.